2020 will be the year of Big Data. We have been told that so many times, but every time some other tech fad grabbed the attention away. Now data has grown so big, there is no way we can keep ignoring it. And it is not just the size. Finally, we are properly equipped with computing power, analytics, and visualization tools that will help us to turn our full attention to data.
What does it mean for Property & Casualty Insurance? We can finally usher the era of Data-Rich Risk Transparency and embrace the new opportunities for transforming the centuries-old industry and making it more customer-centric and customer-friendly.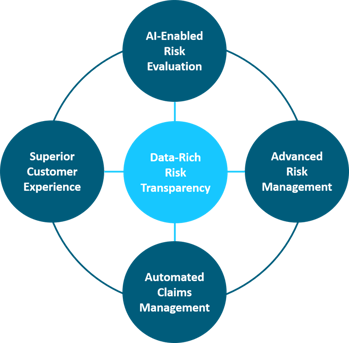 AI-Enabled Risk Evaluation. Ask any passionate underwriter: a few years back, they were ready to give an arm and a leg to get their hands on the exhaustive account risk data complete with risk development trends. Currently, the overabundance of data provides the fertile ground for nascent AI-powered risk models. The biggest promise for insurers is not just in the ability to make their books profitable, but also in the opportunities to broaden their customer base by being able to price the risks that previously were declined as undesirable.
Advanced Risk Management. Risk Management used to be the service available only to large commercial accounts. Nowadays, IoT advancements provide a great opportunity to extend this offering to accounts that previously were considered too insignificant to justify the expense that risk management service entails. As the industry continues to debate the issues around the device ROI, data security, and challenges pertaining to liability issues, the case for the IoT adoption becomes more compelling. This is particularly important for the insurance segments with growing frequency and severity of loss, such as Commercial Auto, which in order to remain profitable, sometimes have to price their customer base out of business. What is really encouraging is the growing consumer demand for services based on IoT and AI device adoption in other sectors.
Automated Claim Management. This is the functional area that will benefit the most from the data-rich digital applications and AI. These advancements open up tremendous potential for streamlining the operations and reducing costs while improving customer experience and combating fraud. Coupled with Computer Vision technology, satellite and drone images, advanced data models can revolutionize the claims management process.
Superior Customer Experience. In the industry facing product commoditization, the biggest opportunities are in service differentiation. And speaking of differentiation, the customer that insurance companies are dealing with in increasingly young, tech-savvy and demanding individualization. This is a significant step up from personalization, and it calls for adaptive behavioral modeling that determines the most optimal customer engagement modules. The most exciting part about delivering superior CX is that it is built upon the other elements in the value chain. AI-Enabled Risk Evaluation brings a foundational understanding of customer needs and preferences. Advanced Risk Management delivers a superior experience through meaningful touchpoints enabled by risk mitigation services. And in those rare cases, when losses cannot be completely avoided, Automated Claims Management will help to minimize any disruption and inconvenience that usually comes with a loss.
As we look forward to the opportunities the new decade offers, we are certain that Big Data advancements will only help insurance carriers to sharpen their 2020 Vision.
Interested in learning more about dreyev and our advanced driver attention management system? Click below to learn more about "Walter," our virtual co-driver that provides coaching in real-time to improve your safety record and lower costs.