We are well into January, but the Chinese New Year has just begun, and with that beginning, I would like to reflect on trends in 2020 and what our team at dreyev believe are the 4 auto technology trends to expect in 2020.
Trend #1: Autonomous Vehicles
Two significant trends are underlying the use of technology in cars to create autonomous vehicles.
Autonomous vehicles are not happening as fast as many predicted
Autonomous vehicles or "AVs" are certainly not going away any time soon, but the timeline is clearly extended by at least 5-10 years for pervasive use in regular traffic (AV shuttles in enclosed areas will start to show up in the second part of this decade). Investments are increasingly targeting the integration of devices and software architectures with faster ROIs.
The red-hot hype about autonomous vehicles has cooled down
The red-hot hype about autonomous vehicles from just 2-3 years ago has morphed into a more realistic transition plan to support driver-assist technologies. Additionally, there is an increasing demand for driver attention monitoring solutions that guarantee an adequate level of supervision at all times.
Driver attention monitoring has suddenly turned into a hot area where tier ones, OEMs, and aftermarket resellers are looking for competitive solutions. A reality check is kicking in suggesting leading OEMs, and Tier-1s postpone expensive solutions, in favor of more affordable ones.
Have you noticed that recently fewer and fewer articles and investments are made in the area of autonomous vehicles, and more and more in intelligent Advanced Driver Assistance Systems (ADAS) and driver monitoring systems?
Connected vehicles and telematics have become more prevalent in commercial vehicles resulting in improved fleet management efficiency and profitability. This space has started taking the lead, both in the States and in Europe. Growing adoption of road and in-cabin cameras helps curb legal costs associated with crashes (e.g., driver exoneration) but also improve driver coaching, with the objective to limit the number of preventable collisions.
Trend #2: The European Mandate for Telematics
The European Commission mandated the "Standard for Road Transport Telematics (RTT)" to standardize telematics interfaces in 1998 . But historically, Europe has been more reluctant to support or recommend visual monitoring systems, to protect driver privacy.
A surge in crashes caused by inattentive driving is forcing many fleets to reconsider the use of driver monitoring. Notably, in Spring 2019, the EU approved a new mandate called "General Safety Regulation" that among many other safety-related features will require personal vehicles to include a "black box" capable of detecting drunk, drowsy and distracted driving by 2022 on all high-end cars, and by 2024 on all vehicles.
Trend #3: Driver Assistance Must-Haves
Advanced driver-assisted systems are gaining traction as the next solution. For them to be even more successful in 2020, we believe from our experience developing AI-assisted driver coaching technology, there are specific characteristics that are must-haves:
Human-Centric: The human needs to be at the center of this design. Collaborative systems need to compensate for the occasional lack of attention of the driver and turn them into reliably good drivers.
Personalized: Interaction and guidance provided by the Smart co-driver system should be personalized and adapted to the preferences and skills of the driver. It should be extensible, with personalize-able speech recognition and synthesis, fully hands-free and eyes-free to avoid any distractions. It should also educate the driver on the capabilities of the system, with no guesswork required.
Regular Updates: There should be regular updates with new or enhanced features that will protect the driver. Feedback should be collected and used to improve the product. Tesla is clearly paving the path here, demonstrated by their practice of collecting data from vehicles currently on the road and being proactive in fixing any problems with software updates.
Uncluttered User Interface: Well-designed UIs and feature sets will lead to user loyalty and increased user satisfaction.
Cost-effectiveness: Smart, appealing, and sophisticated technologies have been demonstrated in advanced-concept vehicles for years, but the technology has been too expensive to fit in affordable vehicles. ADAS has started to become more mainstream as costs are coming down thanks to economy of scale. Road and in-cabin monitoring systems are beginning to approach the level where everybody can afford and benefit from them.
Trend #4: Detection, Evaluation, and Interaction
Building an effective driver coaching and warning system has many components. To increase safety and monitor risk, we believe three key layers need to be addressed.
Detection
Various good solutions exist today to implement reliable, accurate road scene analysis and in-cabin face/gesture recognition. Detection technology is continually improving, and the ADAS software needs to keep up with these advancements.
Evaluation
Distinguishing between occasional but rare moments of inattentiveness and repeated patterns of distracted and drowsy driving is crucial.
Determining the level of risk the driver is facing at any given time because of speed, traffic density, position, and movement of other elements on the road (vehicles, pedestrians, animals, inanimate objects, weather conditions) can be challenging.

Humans, especially expert drivers, are usually good at it, but only if they are fully aware of the context. The key is to evaluate risks in real-time, taking into account multiple aspects of the contexts and at the same time, evaluate the driver's awareness. As soon as a mismatch is detected, the challenge is to quickly determine the best way to warn or engage the driver.
Interaction
The Interaction layer is where most of the magic happens. It is a complex task that needs to be accomplished for the entire system to be truly preventive: effectively coaching the driver to be appropriately attentive. Conveying all the right warnings and messages only when they are needed is critical to making it most effective, and most acceptable by every driver.
Underlying the Interaction layer is human centricity, and the need to make the tool learn from multiple contexts and become responsive in real-time. Rather than replicating, we complement the driver's skills. In the end, it is such a collaborative and adaptive solution that can be truly effective. We'd like to see applications that are focused on the human, where the machine adapts to humans, rather than the other way around. In his recent blog, Roger Lanctot applauds companies showing how man-machine collaboration can work effectively in cars.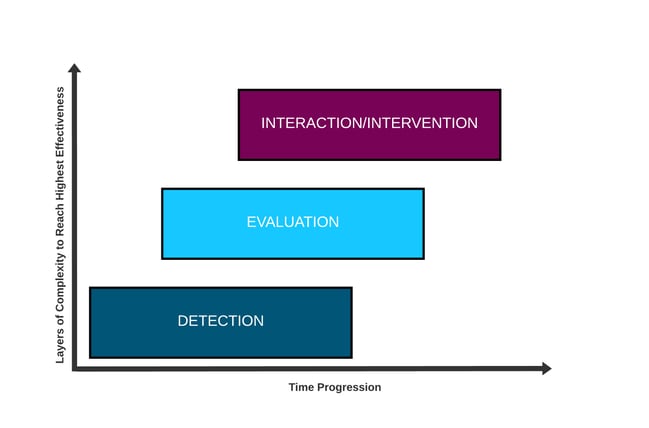 This is an ambitious task, yet still easier to achieve than full replication of human driving capabilities. The transition from Level 2, where the vehicle can steer, accelerate and brake in certain circumstances, to Level 3, where in the right conditions, the vehicle can manage most aspects of driving, including monitoring the environment using automation, is still years away.
For technology to reach Level 4, where the vehicle can operate without human input or oversight but only under select conditions, is going to require reliable understanding of the supervising human's ability to take over control when needed, and never lead to a situation where neither the car nor the driver is capable of intervening for different reasons.
Conclusion
We recently attended the CES 2020 (Consumer Technology Association) technology conference in Las Vegas. This was a very fast-paced and energetic gathering to show consumer technologies and get a first-hand glimpse at next-generation innovations.
We were very impressed and excited about what we saw and learned. There were many outstanding displays of in-cabin and out-board monitoring solutions, confirming what we feel are critical trends for 2020.
We're looking forward to what 2020 has in store for technology and are excited about how it will improve driver safety. In our next blog, we will share the most exciting innovations we saw at CES 2020.
Interested in learning more about dreyev and our advanced driver attention management system? Click below to learn more about "Walter," our virtual co-driver that provides coaching in real-time to improve your safety record and lower costs.