The impact of COVID-19 is yet to be accessed fully, but it is fairly clear that the insurance industry is facing mounting losses in the short term and an uncertain recovery in the long term. Commercial Lines are expected to be hit the hardest. Property, Liability, Workers Compensation and Marine coverages may face somewhere between $30 and $80 billion in claims according to Willis Towers Watson and will see significant market shrinkage post-pandemic.
The two months of the lockdown delivered a devastating blow to the US economy. With 39 million Americans forced out of jobs, the commercial insurance market is bound to shrink beyond the levels seen following the Great Recession of 2008.
In Q2 of 2020 the daily economic output is down by a third. More than half of small businesses closed, and most likely will not be able to re-open. Those that survive will be forced to operate at reduced capacity in order to comply with post-pandemic safety measures. That will leave insurance carriers with a much smaller and riskier Commercial Lines market. Up to a quarter of the $290 billion premium market may evaporate with the exposure base alone. And even if some lines may see a double-digit rate hike, that will not be enough to get to the Great Recession levels.
Transportation Ups and Downs
Amidst concerns around claims-related lawsuits and economic recovery, Commercial Auto offers a glimpse of hope. Unlike other coverages it is least impacted by extraordinary claims and may compensate shrinkage in some sectors by showing growth in the others.

Currently, public transit usage is down 70% - 90% and similar drops seen for taxi services and ride-share requests. These will be slow to recover along with the niche accounts such as school bus yards, hospitality, entertainment, sightseeing, athletic and similar types of services.
Trucking accounts which comprise about half of the commercial liability market, fared much better. During the 8 weeks of the lockdown phase trucking volumes were about 75% of the five-year average dictated primarily by disruptions in supply chains. But the current recovery trend indicates that by mid-June the trucking sector will enter the full recovery phase.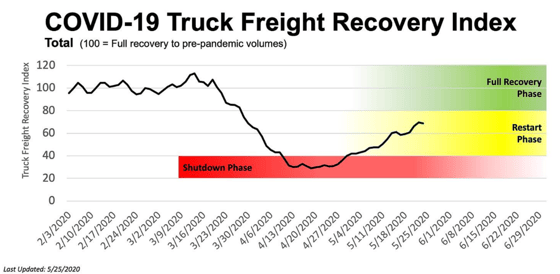 Image source: Truckstop.com Spot Market Insights, Analysis by FTR Transportation Intelligence
B2C deliveries will ensure a speedy recovery and possible further growth. While the logistics behemoths take on the lion's share of that growth with Amazon and Walmart adding half a million jobs already, the last mile delivery and 3rd party logistics subcontractors are becoming an integral part of the growing logistics network.
Grocery and food delivery is the niche area that is currently seeing explosive growth. Even pre-pandemic, services like Instacart, UberEats and Grubhub were growing strong. With the lockdown in place, they are growing even faster.
The Next Normal for Commercial Auto
Commercial Auto has been in turmoil for almost a decade due to skyrocketing losses, primarily in the trucking classes. It emerged as the loss leader driving up loss frequency and severity with more vehicles and miles traveled, and by ever-increasing distracted driving. The average quarterly rate hike of 7% was not enough to keep the line profitable. Since 2011 combined ratio was over 100% and kept climbing despite the rate increases. By 2020 the industry has seen double-digit rate increases, which were necessary to cover multi-million losses from the "nuclear" accident payouts. The recent effort to improve underwriting results through price increases only leads to the situation when insurance coverages become unaffordable for trucking companies. whose operation margins are already thin, leading to a series of bankruptcies and business closures.
The initial assessment of the post-COVID world is not comforting for commercial insurers:
Growth in delivery classes: Last mile, local delivery and courier services were not attractive even before the pandemic due to high-frequency losses.
More inexperienced drivers: In the current labor market delivery subcontractors are forced to hire less experienced drivers, which may drive up claims even further.
Less congestion on the roads: The lockdown forced people to drive less, and those working from home will now most likely continue doing that in some capacity going forward. That means we may see some drop in claims frequency.
Increase in loss severity: Severe and fatal crashes are on the rise linked to less congestion and higher average speeds and more speeding incidents.
Longer driving hours: While the total number of miles driven was cut by half, the surge in demand for deliveries increased the number of hours driven by commercial drivers. This is particularly true for emergency deliveries, for which previously established limits were lifted, leading to fatigue, exhaustion, and crashes resulting from slower reaction times and sleepiness among drivers.
In the pre-pandemic world, consecutive price increases proved to be largely insufficient. The new environment is adding more challenges that are not going to be solved through rate increases alone. What needs to be implemented is smarter risk selection and underwriting coupled with robust risk management and claims practices.
Tech to the Rescue
The auto insurance was on the innovation frontier by introducing usage-based insurance and telematics about a decade ago. The early success of the technology was in the ability to
gain transparency into the driver behavior,
set incentives for developing safer driving habits and
provide fleet managers with insights into the fleet performance.
Most of the mobile-based solutions capture a lot detailed data and are equipped with advanced analytics to provide deep insights into the individual driver's behavior. They can detect distracted behavior based on cell phone patterns and provide driver feedback. Some can even upload the crash forensic data at the time of the event.
While such solutions provide great insight into the driver risk profile and develop mobile-based AI-powered processing of driving style "fingerprints" to help price risks better, they are still lacking the ability to generate proactive risk warning using the road risk context in real-time to prevent crashes from happening and/or to mitigate the severity of impending events.
As a result, the actual risk management continues to be largely relegated to fleet managers and relies on their ability to utilize fleet insights and implement defensive driver training and disciplinary standards. While better insights, safety standards, and management practices may help to improve the overall fleet performance under normal circumstances, they may not be as effective when the fleet staff is stretched and overworked and with the influx of inexperienced drivers. This way fleets will not be completely immune to unexpected severe crashes and commercial auto clients will continue seeing rate increases.
The current environment calls for the next-gen solution that uses advanced computer vision and behavioral AI to prevent crashes from happening. The new technology will help to cover the current gaps in risk mitigation solutions by augmenting driver experience and expertise:
enable a virtual co-driver experience to ensure the system acts as an additional and tireless experienced driver that can warn about impending dangers on the road;
alert about all instances of distracted driving and not just those that can be registered by mobile phone use;
reduce severe crashes due to drowsy driving resulting from driver fatigue;
avoid preventable crashes due to impeded reaction times resulting from driver exhaustion;
provide real-time adaptive driver coaching to improve driving safety habits through a low-cost training solution with an important social distancing component;
implement safety measures to mitigate pandemic-caused effects, such as periodic driver vital signs and symptoms checking.
All of these technology advancements taken together will help to
ensure profitability of commercial auto clients;
increase carrier ability to offer competitive pricing to attract and retain new customers;
improve operating results by implementing more robust data and service delivery processes.
Timely and smart implementation of advanced tech will help to improve Commercial Auto profitability. Adding value-add services with a risk mitigation component may prove highly useful for collecting rich risk data and integrating it with pricing model updates.

Conclusion
Commercial carriers are facing an uncertain future in the post-pandemic world due to mounting claims and shrinking markets. Their future success and competitive position depends on their ability to pivot and turn to the lines that may provide profitable growth through the implementation of advanced technologies. Commercial Auto can realize its profitable growth potential through adoption of the next-gen telematics enabled by computer vision, behavioral artificial intelligence, proactive risk mitigation and real-time driver coaching.
Interested in learning more about dreyev and our advanced driver attention management system? Click the link below to download our use case 'Regional Commercial Lines Carriers.'